Perfect Move
Whether you are leaving the dorms for your first 1 bedroom apartment in Mumbai, moving to your dream house in Mumbai, or moving across Karnataka, India - Krishna Logistics Cargo Packers is the moving company that will turn the world upside down to ensure you have a perfect move.
Local Moving Leaders
Moving people locally for decades, our qualified team and detailed process are the formula to our seamless service.
Moving you forward
Specializing in local operations for the past 15 years, Krishna Logistics Cargo Packers has moved over 2000 customers in Mumbai and is a leading provider of residential moving services in Mumbai, India. With a broad national network and a high-quality moving team, Krishna Logistics Cargo Packers focuses on local knowledge and meticulous planning — key factors that always guarantee a flawless move.
How We Move Local
Innovating the way people move, Krishna Logistics Cargo Packers turned moving into a science. With our precise methodology, unique tools and all-inclusive flat rate, we guarantee transparency and accuracy throughout the whole process. Here's how we do it:
Pricing
Upfront flat-rate price with all labor and travel expenses included
With our Krishna Logistics Cargo Packers Formula, we provide an all-inclusive price based on your inventory and the distance you're traveling, with no hidden fees or surprise costs.
Planning
Meticulous planning, tailor-made for your move and location
Based on the information gathered by your Relocation Consultant, our planning team will determine a specific schedule and timeline for your move.
Customization
Custom schedule taking into consideration all of your deadlines
Trained to handle any deadlines and last-minute changes, our staff will work closely with you to complete your relocation according to your own schedule and preferred dates.
Tracking
High-performance fleet and app that allows you to track it in real-time
With Krishna Logistics Cargo Packers App you have full control of your move — message our team, stay informed, check your inventory and track our moving trucks in real-time, wherever you are.
7 days a week support and assistance
Have a question on your moving day? Plans changed last minute and you need to reschedule? Found something wrong after you unpacked? Our customer service is always one call away.
Packing & unpacking you can trust
For each item our movers have a specialized approach to ensure a safe arrival at your new home.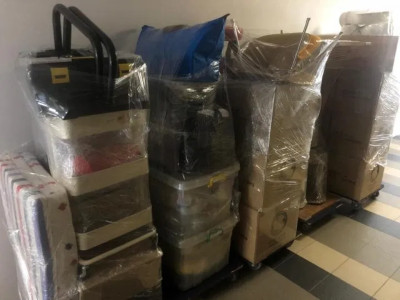 Professional packing by the best movers
We became the top moving company in Mumbai by being the safest & most efficient. How? We mastered how to pack. How to do it right involves using the best materials, having proper planning & excellent movers. Even before your move starts our movers review your items & develop a customized approach to how they will pack. What materials are needed for each item for instance. It's how we move smart and get you to your new home safely and seamlessly. To learn more about how we approach packing see our packing tips and how to pack wine glasses.
Specialized packing for specific items
We pre-plan every packing job, and bring specialized materials. We use specific procedures for each item –lamps go in special boxes, mattresses are inserted in special bags, and flat screen TVs have special packing procedures.
Packing boxes & personal containers at the highest quality
Krishna Logistics Cargo Packers Moving uses only the best packing materials, high quality blankets, boxes & tape. We also use heavy duty boxes for longer cross country or international moves. Visit our store to purchase the same professional materials we use.